If you're donating your stem cells through the PBSC method, in the lead up to your donation day you'll need to have injections of a growth factor known as 'G-CSF'.
This is a big part of your donation experience, so we've put together this information from our Medical Officers to help you know what to expect.
What is G-CSF?
G-CSF or 'granulocyte-colony stimulating factor' is made naturally in the body to stimulate your bone marrow to release stem cells into your bloodstream. G-CSF injections are a synthetic version of this naturally occurring growth factor.
G-CSF injections are given before you donate your stem cells to boost your white cells and to release stem cells into the bloodstream ready to collect.
G-CSF is also given to some patients receiving treatment for cancer. It makes their bone marrow produce white blood cells which have been depleted by chemotherapy, and helps them to fight infections.
How are G-CSF injections administered?
In the four days before your donation, you'll receive a course of daily G-CSF injections. The number of injections each day depends on your weight - it can vary between one and four injections.
These can either be given by a nurse visiting you at a time and place that suits you or, after training from a nurse you can administer the injections yourself, or a family member or friend can do this for you.
It's up to you which route you take, but either way you can always call the nurse or the Anthony Nolan team for support and advice.
How G-CSF injections are given
A nurse will bring all the pre-filled syringes on the first day of your injections – these need to be kept in the fridge.
The injections are given subcutaneously, i.e. under the skin in a fleshy part of your body such as the arm, thigh or abdomen.
The needles self-retract once the dose has been given – they then go straight in a sharps bin.
Can you self-administer G-CSF injections?
If you choose to self-administer your G-CSF injections, a nurse will visit you on the first day and provide you with help and training. On the following three days you will self-administer your injections (or a family member or friend will do this) but you can always get in touch with your nurse or Anthony Nolan coordinator with concerns or questions.
We've found that donors who choose to self-administer the injections feel really positive about it and appreciate the independence and convenience. Although it's natural to feel a bit nervous about doing this, the nurse will give you step-by-step instructions about what to do.
Here's how some of our donors felt about it:
What to expect during your course of G-CSF injections?
Every donor is different and will experience G-CSF injections differently, though the majority of donors will experience some side-effects, the most common being bone pain as your body is busy producing stem cells.
A doctor will also chat through what to expect at your medical assessment, and you can ask them or your Anthony Nolan coordinator any questions.
Anthony Nolan has a 24-hour emergency line available to all donors in case a donor is concerned about anything to do with their donation and includes care from our medical team if a donor experiences side effects from their injections.
The number to call is 07710 599161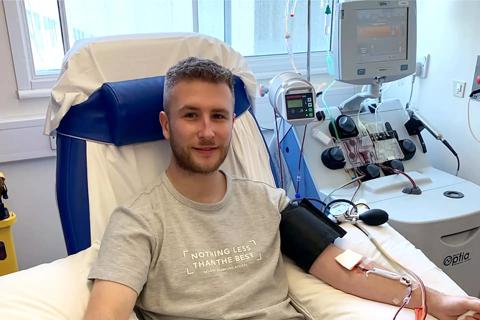 This is what you might expect to happen on each day of your injections:
Day 1: On your first day of injections, you might feel a little nervous, but the nurse will explain how it will all work and stay with you for an hour after to make sure you're OK. You will have between one and four injections each day. You probably won't feel any side-effects just yet, but they do build up as the days go on, so it's best to take it easy from the start.
Day 2: If you're self-administering your injections, today would be your first day doing it yourself. We recommend doing it in the evening, and you can contact Anthony Nolan or your nurse if you have any questions. You may start to experience some aches, such as headaches and bone pain.
Day 3: Many donors experience bone pain or headaches, especially on the third day of G-CSF administration. Some donors also start to experience some side-effects that prevent them from pursuing their usual activities – this can include nausea, vomiting, aches in the lower back and chest region, and difficulty sleeping. Each person experiences side-effects differently, and although the majority find them manageable, it's important to rest and not do any strenuous activity.

If your job is particularly strenuous and you can't carry out your usual duties, we can help cover any loss of earnings if you need to take time off – speak to your Anthony Nolan coordinator for help with this.
Day 4: You'll have your final injections today. You might be feeling quite tired by now and experiencing more side-effects – it's good to think about how you will travel to the collection centre and give yourself plenty of time to get about.
Donation day: Now you are ready to donate the stem cells your body was busy producing over the last four days. Many donors find their symptoms start to ease as soon as their donation starts. You can find out more about what the donation involves here.

After your donation, while you are still at the hospital, the lab-staff will process your stem cells. They will check if enough have been collected, and if a second donation the next day is needed. If you are asked to return for a second day, you will receive a fifth dose of G-CSF injections.

In less than 1% of cases, G-CSF doesn't work properly and not enough cells are produced over the two days. This is very unlikely to happen, but if it does, you may be asked to donate bone marrow.
After your donation: Donors who donate via PBSC often find they feel tired for two days following their donation, so it's important to still rest and take some time away from your work or studies if possible. Some donors experience mild bruising from the donation procedure and some lingering pain. These symptoms will get better within in the first week post-donation.
How to deal with G-CSF side effects:
G-CSF is given to over 15,000 donors around the world every year, and it has an excellent long-term safety record. While side-effects are common, they usually pass very quickly and there are some key things you can do to help:
| Short term side-effects | How likely it is | Tips to help |
| --- | --- | --- |
| Bone/muscle pain and back pain | Very common | Simple pain relief (see below) and a warm compress, such as hot bath or hot water bottle. |
| Fatigue | Very common | It's important to rest and avoid strenuous activity. |
| Low grade fever | Common | Contact your Anthony Nolan coordinator if you have a fever over 38 degrees. |
| Headache | Common | Simple pain relief (see below). Please let your Anthony Nolan coordinator know if this doesn't respond to pain relief. |
| Trouble sleeping | Common | If related to any pain, follow the advice above. Otherwise resting in the day can help with tiredness. |
| Nausea/loss of appetite | Less common | It's a good idea to eat small meals frequently and keep hydrated – ginger tea can also help. If this continues, contact your Anthony Nolan coordinator for advice. |
| Vomiting | Less common | Contact your Anthony Nolan coordinator if you have vomited so we can discuss measures/medication to help |
| Abdominal pain in your left-hand side | Less common | G-CSF can cause your spleen to get a little bigger. It's important to let your Anthony Nolan coordinator know if you have this pain. |
Simple pain relief
If you need to take pain relief, we recommend taking paracetamol first to see if that helps. You can also take ibuprofen up until 24 hours before your donation (which means on days 1-3 of G-CCSF, but not on the 4th day). You must not take aspirin; this is due to the fact it can stay in the system and affect platelet function for 7 days).
If paracetamol doesn't help, then please contact your Anthony Nolan coordinator for advice who can recommend something stronger or they can ask the medical officer to call you if needed.
Other side effects
More serious side effects from G-CSF injections are extremely rare, however they have been reported and as a result we know what signs to look out for. We've included some details here so you can be aware and know when to seek help.
Our 24-hour emergency line is available to all donors in case you are concerned about anything to do with your donation and any side-effects. Call 07710 599161 anytime for help or advice.
Rare side effects
Ruptured spleen: If G-CSF makes the spleen very large, there is a risk that this may rupture. This is extremely rare in healthy donors, but it has been documented in case reports. The risk is estimated to be between 1 in 5000 and 1 in 10,000 and it is thought to be related to increased number of days and dose of G-CSF. For this reason, all donors undergo medical examination to assess the size of their spleen before starting the process, we give an absolute maximum of 5 days of G-CSF and we use a dose of 10mcg/kg. If at any point you notice pain or enlargement in your left upper abdomen, please let your Anthony Nolan coordinator know and our medical officer will contact you to chat about it and decide if you need a scan of your abdomen.
Acute respiratory distress syndrome (ARDS): This is an extremely rare side effect that has been reported only a few times. This is happens when you develop fluid on the lung and can make you feel short of breath. The rare cases reported in the literature have sometimes been associated with previously undiagnosed infection prior to taking the G-CSF. If you develop shortness of breath then contact the Anthony Nolan 24-hour emergency line will arrange for you to be reviewed.
Serious allergic (anaphylactic) reactions: With any new medication there is always a risk of allergy. Anaphylaxis means a systemic response to the allergy. Despite this potentially making the person very unwell, there is a quick and effective treatment with the administration of adrenaline. For this reason, despite the rare occurrence (<1 in 1000) a nurse will always administer the first dose and will stay to observe you for one hour after the first injection. The nursing staff are fully equipped with medical treatment for anaphylaxis including adrenalin.
Kidney injury and capillary leak syndrome: Another extremely rare side effect is a change in your kidney function. This is why we always assess the kidney function at medical including checking urine for blood and protein. There is the rare possibility of G-CSF unmasking pre-existing health conditions, such as IgA nephropathy, and therefore care is taken to screen donors.
Pregnancy: Scientists don't yet know what the effects of taking G-CSF whilst pregnant has on an unborn child, so we ask women to use contraception during the course of injections and for one month afterwards. There are no concerns about subsequent pregnancy after this time.
If any of the rare or more serious side effects happen during the donation, there may be a chance we need to stop G-CSF injections or the donation process.
Long term side-effects
The long-term side effects of G-CSF are closely monitored by Anthony Nolan and registries around the world, by following up donors for 10 years after donation with regular questionnaires. In a global study of over 27,000 donors, no differences were found between stem cell donors and the general public in terms of reporting malignancies or other long-term health problems in this follow-up period.
We also make sure all our donors have a full medical check before donating in order to minimise the risk of any long-term side-effects.
If you have any questions or concerns about any of this information, or want to get advice on any side-effects, please speak to your Anthony Nolan coordinator or call the 24-hour emergency line on 07710 599161 if your question is urgent.
GCSF emergency information - This document contains Anthony Nolan's emergency contact details for when you're donating and information for a medical professional in case you require details of what G-CSF injections you're having.