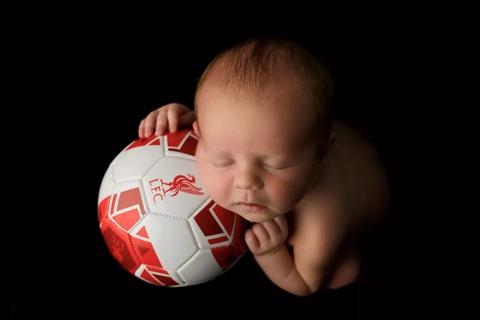 The family of a three-month-old baby with blood cancer is urging people to join the Anthony Nolan stem cell register and help save the lives of patients in urgent need of a stem cell transplant.
Three-month-old Francis, from Walton, Liverpool, was a joyful, adventurous baby who loved swimming lessons, joining his mum's Spanish lessons, and hardly ever cried. However, all that changed when his parents received the heartbreaking news that their new baby had an aggressive form of blood cancer earlier this month.
Francis' parents first spotted an unexplained bruise on his arm when he was just six weeks old. After blood tests failed to reveal anything abnormal, Francis eventually became incredibly ill and tired, until a bone marrow biopsy revealed that he had acute myeloid leukaemia (AML). AML is a type of blood cancer that causes the cells in bone marrow to make too many abnormal white blood cells. These damaged cells fill up the bone marrow, preventing it from producing all types of healthy blood cells. Francis' cancer is aggressive; his biopsy showed that his bone marrow was 80% cancer cells.
Francis is now in hospital at Alder Hay Hospital and will be until he finishes chemotherapy in November, when he'll be transferred to Manchester Children's Hospital. Doctors have now told Francis' parents that at the end of his treatment he needs to have a stem cell transplant as his only chance of a cure.
Francis' family has teamed up with stem cell transplant charity Anthony Nolan for the campaign 'Fight for Francis' to encourage people from all backgrounds to sign up to the stem cell register.  
Anna, Francis' mum, said: "Finding out that our baby has blood cancer has completely turned our world upside down. You never think something like this will happen to you, you feel so desperate. We're devastated that Francis is having to face something so hard so young.
"If you're able to sign up, please consider becoming a stem cell donor. You could save the life of someone like Francis and give hope to their loved ones too."
Henny Braund MBE, Chief Executive of Anthony Nolan, said: "It would mean everything to Francis' family to find him a donor before November when he will need his transplant. We will be supporting them as they wait for news of a donor who could give him a second chance at life. If you're aged 16-30, in good health, you could give hope to someone like Francis by joining the Anthony Nolan register today. We are particularly urging young men to consider signing up – they are far more likely to be chosen to donate but they are less likely to sign up."
Anthony Nolan is especially encouraging more young men to sign up to the register; young men make up a high percentage of donations but are less represented on the register. Anyone looking to join the stem cell register must simply complete a short form online. They'll receive a cheek swab in the post which should be returned to Anthony Nolan. Once swabs are in Anthony Nolan's lab, donors will get an email and donor card in the post. Once this card has been received, they're on the register, and in future they might get called to donate and potentially save someone's life.