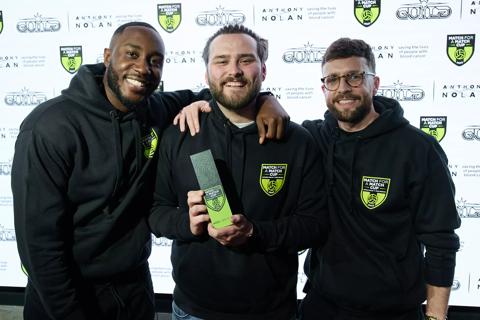 Last night, Guild Esports hosted the Match for a Match Cup, a FIFA tournament with a difference, that saw four pro gamers and content creators, not known for playing the game, step out of their comfort zone to compete in aid of blood cancer charity Anthony Nolan.
For an excited crowd in attendance, and thousands more watching via Twitch, it proved to be an evening to remember, for more than just the action on the (virtual) pitch. Attendees included stem cell transplant patients and stem cell donors telling their amazing stories and educating viewers on how they can make a difference to people with blood cancer and blood disorders by signing up to the Anthony Nolan stem cell register.
Played in a knockout format, the first semi-final of the tournament saw co-star of Jaack Maate's Happy Hour podcast and Guild content creator Stevie White take on 'Anas' El-Abd, a pro Fortnite esports player that previously won MrBeast's $1,000,000 tournament. Stevie came out on top, recording a 7-1 victory that saw him secure his place in the final with ease.
The second match-up saw lifestyle content creator Harrie Silver take on Henrik 'Hen' Mclean with the British/Lithuanian Fortnite player, many people's favourite for the tournament, get the W, booking a spot in the final alongside Stevie.
Following the semi-finals, Stevie took a mouth swab live on stream, showing viewers how simple it is to join the stem cell register, and encouraging other young people to do so, as, statistically, they are more likely to be a match for someone in urgent need of a stem cell transplant.
The tournament was presented by Iain Chambers who's no stranger to big esports events; Iain was joined by Guild content creator and FIFA streamer TN25. The pair spoke to Ethan Beckley, a stem cell donor, who described the hugely rewarding process of donating stem cells, urging viewers to give themselves the opportunity to become a real lifesaver.
Also speaking at the event was Dan Yeates who, at age 27, was diagnosed with Acute Lymphoblastic Leukaemia. After receiving a stem cell transplant that saved his life, Dan is on a mission to give more patients the chance of survival. Speaking at the event Dan said: "I would beg everybody to please go and sign up. It doesn't take very long, you may never be called on, you may be called on 10 years from now, but you can save someone's life with very minimal effort in comparison to what that person is going through." After his transplant, Dan left hospital and soon after was married, got a puppy, and returned to work full time, showing how quickly life can turn around with a stem cell match.
Back to the action. After a hard-fought consolation match that saw Anas and Harrie draw 1-1, sharing third place in the tournament, the time had come for the two finalists to go head-to-head for the Match for a Match Cup, with a sleek trophy, designed specifically for the occasion, up for grabs.
This clash of titans turned out to be an unexpectedly one-sided affair with Stevie stealing the show, recording an emphatic 9-0 victory. Highlights from the winner included a clinical use of the infamous FIFA 'dink' finish and even playing a section of the final blindfolded with the score already at 6-0.
Speaking on his victory, Stevie said: "I didn't expect to score one goal, I thought Hen would destroy me, but I'm very very happy. I made him look silly, which is even better."
Matt Allen at Anthony Nolan said: "It was wonderful to see the players step outside of their comfort zone and change their games to raise awareness of stem cell donation.
"It was even better to see the players sign up and swab to join the Anthony Nolan register. They're now on standby - and could one day give a patient with blood cancer or blood disorder a second chance at life. This makes them all winners in my eyes!"
Followers can find out more about the Match for a Match Cup via the Anthony Nolan website and watch all the action from an incredible evening via the Guild Twitch channel.