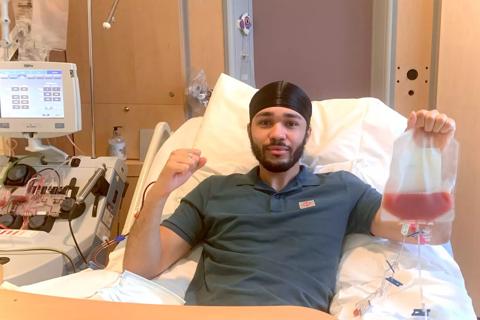 A new round of funding has been announced as part of the Government's commitment to tackle health inequalities.
NHS Blood and Transplant has, again, partnered with leading blood cancer charity Anthony Nolan to raise awareness of stem cell donation, particularly in Black and Asian communities through the Community Grants Programme. Anthony Nolan has supported the programme by providing 40% of the contribution towards projects raising awareness of stem cell donation.
Genetically, patients in need of a stem cell transplant are far more likely to match with stem cell donors of a similar ethnicity. People from ethnic minority backgrounds often have rarer tissue types which makes it harder to find matching donors.
Henny Braund MBE, Chief Executive at Anthony Nolan, added: "At Anthony Nolan, we're proud to work with our partners to fund the Community Grants Programme.
"These vital projects will boost the number of stem cell donors from minority ethnic backgrounds on the UK stem cell register. In turn, they will help close the gap in access to lifesaving treatment between patients from minority ethnic backgrounds and those of White ethnicity."
Altaf Kazi, Assistant Director, Partnerships and Community Engagement at NHS Blood and Transplant, said: "We have seen first-hand the abilities of trusted individuals and community groups to prompt conversation, tackle misinformation, educate, and offer reassurance around donation.
"Often a person's best donor match will share their ethnicity, but too many donation opportunities are missed because families haven't discussed organ donation, and Black and Asian people are seriously under-represented when it comes to donating blood and stem cells.
"We are really excited to work with these grassroots champions to address inequalities and help save more lives."