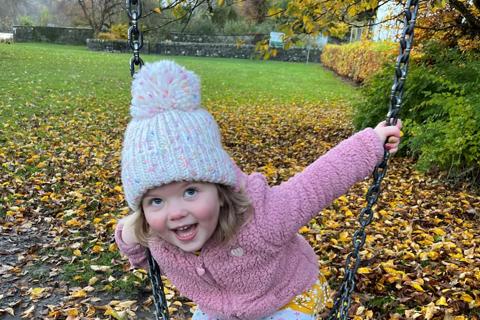 Four-year-old Erin loves colouring and watching Bluey with her older sister Neave, who is seven. She loves walking her active springer spaniel Angus and playing with the close friends she made at nursery. Neither are possible right now because Erin has been diagnosed with blood cancer for the second time in her young life. Erin's family have teamed up with the charity Anthony Nolan for the campaign Erin's Big Match, to encourage people to sign up to the stem cell donor register.
Erin, from Newport on Tay, was diagnosed with acute lymphoblastic leukaemia (ALL) in 2019 after experiencing symptoms including a rash, night sweats, bruising and fatigue. As a patient at the Royal Hospital for Children & Young People she received treatment including chemotherapy. After finishing the gruelling therapy, earlier this year, Erin was able to ring the bell to mark the end of her treatment.
Erin's parents Catrina and Derek contacted Scottish charity Logan's Fund, who granted Erin 's wish for a family puppy, Angus, as an end of treatment gift. The family celebrated with a trip to the safari park and were looking forward to normality when, just four months later, Erin's rash returned.
Catrina, Erin's mum, says: 'Erin began vomiting and she had a couple of gastro bugs. She felt tired and sick, and I was determined get her reviewed because nobody else in our family felt unwell.
Two weeks after her routine blood tests showed no sign of cancer Erin relapsed.
'It came back very quickly,' recalls Catrina. 'When it was confirmed that Erin had relapsed so soon after treatment, I knew immediately she'd need a bone marrow transplant. She'd need a stranger to donate their stem cells because we had already been told that Neave wasn't a match. We were also told that Erin has unusual bone marrow, which would make finding a matching donor more difficult.'
Erin is currently back under the care of the Royal Hospital for Children & Young People in Edinburgh and is staying at the Young Lives vs Cancer House as the urgent search continues for her matching stem cell donor. Catrina and Derek alternate, spending one week with Erin and the following week with Neave. They cross over on a Sunday which is when Erin and Neave are able to see each other in person.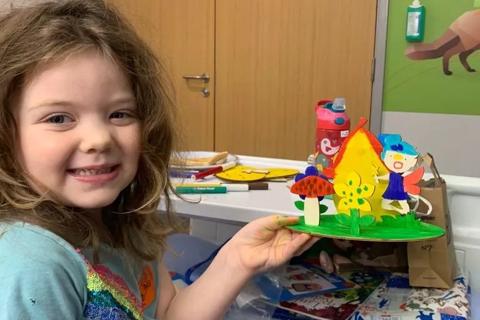 'Erin is very kind. She has a heart of gold and always makes sure everyone is ok,' says Catrina 'She's incredibly close with her big sister. Neave looks after Erin and when she was diagnosed, Neave was really upset and anxious. She just wants her sister home to play with her.
'Erin perks up when she sees her sister, but we need to be cautious. You take normal for granted until these things come along. It's hard to know your child must go through a bone marrow transplant. One of the things we can do is campaign to get more people on the stem cell register.'
Anthony Nolan recruits people aged 16-30 to the stem cell register because research has shown that younger donors increase a patients' chance of surviving. It costs £40 to recruit each potential donor to the register, so Anthony Nolan relies on financial support to keep growing its register.
Henny Braund MBE, Chief Executive of Anthony Nolan, says: 'Erin is a kind little girl who is waiting patiently for news of a kind stranger to give her family hope. Her family are inspiring people across Scotland to learn more about the stem cell register and every single one who signs up has the potential to give someone like Erin a second chance at life.'
'What many people don't realise is how simple it is to join the Anthony Nolan register – if you're aged between 16 and 30 you can join online. After answering some questions to make sure you are in good health to donate, we'll send you a cheek swab in the post. If you're found to be the best match for a patient in need, 90 per cent of the time you'll be asked to donate via the bloodstream.
'We're particularly appealing to young men to sign up to the Anthony Nolan register because they are most likely to be chosen to donate their stem cells to blood cancer patients in need of a lifesaving stem cell transplant.'
Catrina says: 'We just want to get back to normal. Erin craves normal life; she has grown up in a world with adults. I want her to have childhood back because Erin's not been able to see her friends since her relapse. She misses them but it isn't safe because she's immunosuppressed.
'Please sign up to the stem cell register,' says Catrina. 'Not just for Erin, but for anyone else who is unlucky enough to need a transplant.' To find about more about joining the Anthony Nolan register, or to find out more about the different ways you can support the charity visit anthonynolan.org/erinsbigmatch.