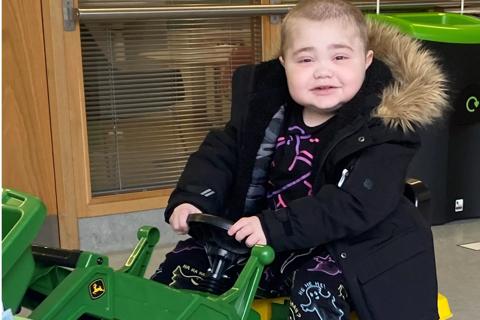 Seven-year-old Freddy from Gillingham is a happy little boy, who loves to go to the beach and visit arcades. He supports FC Barcelona, teaches his puppy Phoenix new tricks and loves gaming with his uncles. However, he has a rare genetic disorder which puts him at risk of serious infection and has prevented him from ever attending school. Freddy's family have been told he needs a stem cell transplant from a stranger, and they are working with blood cancer charity Anthony Nolan to find his 'needle in a haystack' to give him a second chance at life.
Freddy's uncles Neil and Harry Leitch are calling for young men in Kent and across the UK to join the Anthony Nolan stem cell donor register. Statistically young men are most likely to be chosen to donate to a patient in need of a lifesaving stem cell transplant, but young men are the least likely to talk about things like stem cell donation.
Neil, 30, a Telecoms Engineer says: 'I signed up to the register and was really surprised at how simple it was. You don't think about these things until something like this happens to you. That's the thing; I don't think many young men think about things like cancer.
'I've been talking to my mates and everyone I know about the Anthony Nolan register. They just haven't known about it, so I want to help share Freddy's story, so more people find out about stem cell donation.'
Harry, 25, a Civil Engineer agrees. He says: 'I just want all the young lads out there to know that joining the Anthony Nolan register will make such a big difference. You may not come up as a match but, to families like ours, it would mean the world. We're looking for the needle in a Haystack and, as his family it's hard not to feel helpless.'
Freddy was born with Chronic Granulomatous disorder which affects just eight in every one million people. He has been receiving treatment since his first blood test at two-weeks old and has never experienced his first day at school because he is immunocompromised.
Freddy, who would be in Year 3, is currently learning about pets, animals and science experiments with his teacher that visits him at home and his hospital teacher.
Doctors at Great Ormond Street Hospital have told Freddy's mum, Kirsty, that a stem cell transplant is his only chance of a good quality of life, but there is no matching stem cell donor for him. Kirsty has issued her own plea for young men to consider signing up to give hope to families around the world who may find themselves in similar position in the future.
Kirsty says: 'Freddy amazes me every single day. He has been through so much and has spent a lot of time in and out of hospital, but he copes like a trooper.
'I know what it's like to need just one person to help save your baby. By signing up to the Anthony Nolan register young men can literally change someone's life and give back the hope families may have lost. Freddy has such a good bond with all the males in his family and we would love to see that bond grow and Freddy to have time with his dad, granddad, uncles and cousins.
'Just imagine, you could give time to Freddy or another child or baby so they can experience life: going to school, finding their first love, going out with their mates, going to university, and even travelling the world. If a stem cell donor could be found for Freddy, it would give us hope that we aren't going to lose him or have to say our goodbyes.'
Terence Lovell, Chief Engagement & Marketing Officer at Anthony Nolan, said: 'To be told, twice, that there is no matching stem cell donor for Freddy must have been devastating for Kirsty to hear. Stories like this deepen Anthony Nolan's resolve to find a matching stem cell donor for everybody who needs one.
'For someone with a blood or genetic disorder, a stem cell transplant could be their last chance of survival and every day we are grateful for the young people who sign up to save a life. However, while half of the people who donate stem cells each year are young men, they make up only 18 per cent of the Anthony Nolan register. Young men are the answer; if you're aged 16-30 you can give hope to families like Freddy's by visiting anthonynolan.org/match4freddy.' Support Freddy's appeal and find out more about Anthony Nolan's work at www.anthonynolan.org/match4freddy