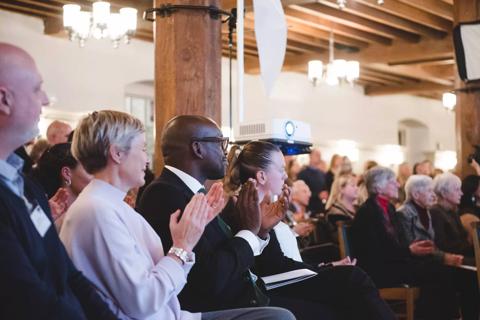 Anthony Nolan is delighted to announce the shortlist for the 2020 Anthony Nolan Supporter Awards (ANSAs)!
Finalists in 16 categories will be recognised in Anthony Nolan's annual celebration. For 2020's awards, our celebration will involve celebrities and specially invited supporters announcing the winners in specially pre-recorded films, which can be viewed right here on Thursday 11 February 2021, from 7pm.
Henny Braund, Chief Executive of Anthony Nolan, says: 'Congratulations to everyone who has being shortlisted in the 2020 Anthony Nolan Supporter Awards.
'Every day, at least five people begin their search for a matching unrelated stem cell donor to treat their blood cancer or blood disorder. We're incredibly lucky to have so many fantastic people supporting Anthony Nolan's vital work to find a match for everyone in need of a lifesaving transplant. This year it is perhaps more important than ever to celebrate our nominees who have put a great deal of time and energy into supporting Anthony Nolan.
'We want to say a massive thank you, and congratulations, to all our nominees. Whether or not you win, nominees like you really are all winners to us.'
The Shortlist
Minority Ethnic Advocate of the Year
Cardiff Marrow
Help Veer Now Campaign
High Profile Supporter of the Year
Olivia Colman
Chris Newton
Clinical Supporter of the Year
Dr Kim Orchard
Dr Thushan de Silva
Donor Champion of the Year
George Quigley
Doug Mbang
Melissa Copson
Everyday Hero
Jean Harris
Jo Kelly
Clare Williams
Group Fundraiser of the Year
Hope Runners
Arlo's Army
ExtraTime4Andy
Individual Fundraiser of the Year
Jamie Wolff
Sam Duggan
Mark Heasman
John Petchey Young Hero of the Year
Veer Gudhka
Felix Brown
Caden Moore
Journalist of the Year
Warren Manger
Hector MacKenzie
Organisational Fundraiser of the Year
Turcan Connell
Budapest Airport-anna.aero Runway Run
Shree Kadwa Patidar Samaj
Patient Champion of the Year
Anie Hu
Julia Lindquist
Dave Jones
Political Supporter of the Year
Mark Tami MP
Bob Blackman MP
Bill Kidd MSP
Register Champion of the Year
Glasgow Marrow
Scottish Fire & Rescue Service
Adrian Sudbury Schools' Education Trust (ASSET)
Scientific Supporter of the Year
Antony Gince and Shari Denovan
Dr Philip Bergin
Dr Jeff Miller
Shirley Nolan Special Recognition Award
Kate Walford
London Marathon 2018 team
Stephen Berger
Simon Dyson Award for Volunteer of the Year
Sam Williams
Nabeel Salim
Volunteer Courier Team