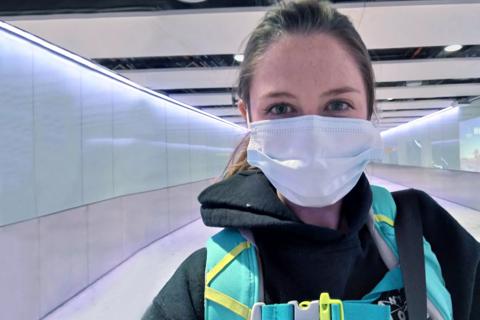 Charity workers are battling the emerging perfect storm of Brexit, Covid-19 travel restrictions and border closures to ensure lifesaving stem cells can be delivered to blood cancer patients who desperately need them to survive.
Amongst cancelled Christmas plans and travel chaos, blood cancer charity Anthony Nolan are working round the clock to ensure stem cells, donated by people who signed up to save a life, can still be transported to patients waiting for a transplant.
Anthony Nolan matches people who are willing to donate their stem cells to patients with blood cancer or blood disorders who desperately need lifesaving transplants. The charity usually enlists the help of over 50 volunteers who travel the UK and all over the world to collect stem cells from donors and deliver them to patients safely and promptly.
Once a person donates their stem cells, couriers have just 72 hours to deliver them to the patient for the clinician to administer the lifesaving transplant. Even in times of global travel restrictions, cells must arrive on time.
As countries around the world introduced travel restrictions on people from the UK over the weekend, in response to the new strain of coronavirus, options for transporting items across borders became squeezed. Anthony Nolan has sprung into action once again, ensuring that all planned donations can go ahead including by cryopreserving stem cells and working with international couriers to get stem cells on freight flights in and out of the UK.
Henny Braund, Chief Executive of Anthony Nolan says: 'Shirley Nolan was a mother who never gave up on her vision to create the world's first stem cell register to find a match for her son, Anthony, and others in need of a lifesaving transplant. This still drives us today – our wonderful staff team are working alongside tireless NHS colleagues, who have not let anything hold them back in this unprecedented year.
'Together we are working around the clock to keep stem cell donations moving during this difficult period, to save patients' lives.'
Ann O'Leary, Director of Donor and Transplantation Services at Anthony Nolan says: 'We were expecting travel disruption at this time due to the ongoing Brexit negotiations and we have spent this year navigating many logistical challenges. We are operating at the sharp end of this: patients' depend on us getting through.
'Although current situation has escalated very quickly and was unexpected, we are doing all we can to tackle it and will continue to do all it takes. The team at Anthony Nolan is phenomenal and we've received fantastic support from our supporters too.'
In addition to raising funds to carry out its vital work Anthony Nolan needs to raise extra vital funds every month that the coronavirus pandemic continues, to ensure life-saving stem cells reach patients. Visit www.anthonynolan.org/coronavirusemergencyappeal find out how you can help the charity keep this lifesaving work going.