Laboratory Services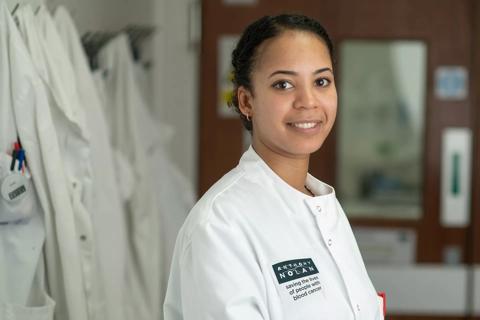 There are many factors to weigh up when you decide to outsource your laboratory services. Understandably, you'll want to choose leaders operating in your field, but it's about more than selecting a provider: It's about entering into a partnership.
Anthony Nolan has one of the world's most advanced HLA Typing laboratories, and offers a range of options to external partners including:
Human Leukocyte Antigen (HLA) typing
DNA extraction
Virology testing
Read on to find out more about our Lab Services, people and facilities, or fill in our Contact Us form and we'll aim to get back to you within one working day with the specific information you need.
Lab Services
Anthony Nolan offers a full suite of specialist laboratory services, including:
HLA typing: for disease association, for pharmacogenetics, and to support transplantation. We can also provide bespoke HLA typing upon request
DNA Extraction
Virology screening (CMV, HIV, HBsAg, HCV), including that of potential stem cell (bone marrow) donors and patients
ABO RhD blood group typing of HSC donors and patients
HLA Antibody screening and identification
Genetic mutation tests, to identify e.g., HFE (Haemochromatosis risk) and CCR5 (HIV resistance) mutations
Solid organ services, e.g., Crossmatching to assess compatibility between transplant patients and prospective donors
All of our services are offered alongside our expert counsel: We can provide data interpretation, population analysis and clinical reporting, as well as bespoke packages to match your requirements. Contact Us today and we'll aim to get back to you within one working day.
State-of-the-art facilities
The Anthony Nolan Cell Therapy Centre was opened in 2008 by the UK Secretary of State for Health in the grounds of Nottingham Trent University. It specialises in the processing, testing and storage of human cells for both human and research applications.
Established with the help of the James Tudor Foundation and the East Midlands Development Agency, the facility is carefully managed and quality checked to precise specifications. It houses both C and D grade clean rooms and an extensive cryogenic storage area as well as a suite of cutting-edge equipment including:
Cytiva Sepax automated cell processing system
Cytiva Smartmax
Asymptote VIA Freeze
Planer LN2 Controlled rate freezer
Miltenyi CliniMacs Plus Cell isolation system
Miltenyi MacsQuant Tyto Cell Sorter
Miltenyi Tissue Dissociator
Large Freestanding centrifuge (suitable for blood bags)
BD FACS Canto II
Sysmex XE2100
Nucleocounter NC-202
Temp and CO2 controlled Incubators
Bactec FX automated blood culture analyser
Our people
Our people are one of the many reasons our clients and partners choose to work with us again and again. We have over 60 skilled scientific, technical and administrative staff working in our laboratories, and our HCPC-registered Clinical scientists and HLA Technical Specialists have a combined experience of 100+ years in Histocompatibility and Immunogenetics.
Our key departments include:
Our Clinical Support Team
The primary point of contact with transplant centres and other service users, our Clinical Support Team is responsible for the authorising, clinical interpretation and reporting of all results. The team also offers a tailored advisory service, providing expert guidance on all aspects of Histocompatibility and Immunogenetics - Contact Us now to discuss your requirements.
Our Technical Services Team
Responsible for turning a swab, blood or cellular sample into a DNA sample suitable for downstream processes. This includes receiving samples into our labs, extracting DNA using industry-leading Maxwell® instruments, and the quantification, normalisation and preparation of final DNA samples for HLA typing. The Technical Services Team can also:
perform blood ABO grouping and virology screening for CMV, Hep B, Hep C and HIV
develop customised HLA testing to suit your specific requirements
provide a bespoke management and handling service
Our Typing and Development Team
This team performs HLA typing on donor, patient and commercial samples using Next Generation Sequencing (NGS). Our specialist sequencers enable us to achieve high to allelic level typing on up to 11 loci, ensuring each patient can be matched with the most suitable donor available.
The team is also equipped to:
use Sequence Specific Primers (PCR-SSP) for various applications, including the rapid detection of disease-associated alleles
perform non-HLA gene testing, which can be used to identify inherited conditions and genetic mutations
confirm blood ABO grouping and sex determination
handle high-throughput screening
turn-around urgent requests, within 24 hours if required
This team focuses on supporting hematopoietic stem-cell transplantation, providing tissue typing and crossmatching services to support renal, liver and pancreatic (islet) cell transplants at the Royal Free Hospital. Thanks to Real Time polymerase chain reaction (PCR) technology, it can deliver a rapid HLA typing service. It also performs HLA antibody screening and identification for potential transplant recipients, and monitors patients post-transplant for an alloimmune response that could result in graft rejection.
Our Business Services Team
Liaising with our commercial partners, this team provides ongoing support and account management for our customers.
Looking for additional lab resources? Contact Us now, and one of our experienced team members will aim to get back to you within one working day.
Professional Project Management
Entrusting your project management to a third-party can feel like a leap of faith, but at Anthony Nolan we don't see ourselves as a third-party. Instead, we work as an invested and committed extension of your team.
Although we're a large organisation, we pride ourselves on personal service. From the offset, you'll be assigned your own permanent Account Manager – someone who knows your project inside out, and will act as a conduit for all incoming and outgoing materials and data.
As well as understanding your project needs and requirements, we also know how important your time is. We will therefore work with you on a one-to-one basis to tailor the services we provide into a bespoke offering. For instance, we can:
Arrange couriers to collect your materials
Develop a project plan to ensure all deadlines are delivered on
Provide expert interpretation of your results
Fill in our Contact Us form today to let us know what support you need, and we'll aim to get back to you within one working day.
Expertise you can rely on
Anthony Nolan holds the world's only central database of HLA alleles, attesting to our leading position within the Histocompatibility and Immunogenetics community.
We have been providing accredited virology and ABO blood grouping to NHS hospitals, universities, research institutions and laboratories across Europe for over 30 years.
We participate in all relevant external quality assessment schemes, maintaining an excellent record of performance. Our Histocompatibility Laboratories are accredited by United Kingdom Accreditation Service (UKAS) to ISO15189 and the European Federation for Immunogenetics (EFI).
We also have unparalleled experience in project management and offer consistently high levels of service and customer satisfaction, making us the ideal partner for researchers and developers requiring extra laboratory resource or specialist expertise.
Ready to discuss your requirements? Contact Us and we'll aim to get back to you within one working day.
Working in partnership
Anthony Nolan is based in the UK, with access to a global network of trusted partners. We can work with you from project conception to completion, tailoring our services to best cater to your needs. And we will match our dedication to yours, offering consistent turnaround times, complete transparency and regular communication.
As a pioneering blood cancer charity, we provide competitive pricing, delivery and quality with the peace of mind that your funds will be carefully reinvested to fuel vital research that aims to save more lives.
Fill in our Contact Us form today to let us know what you need from a laboratory services partner, and we'll aim to get back to you within one working day.