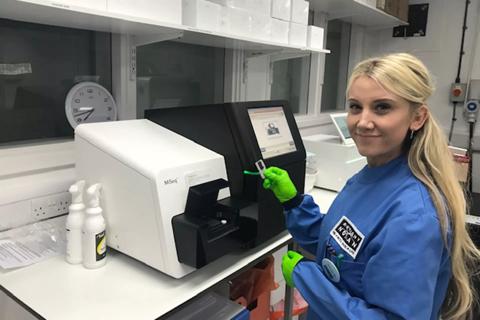 Our clients rely on us to provide high-quality and efficient laboratory services that are carefully managed and quality checked to precise specifications. These include:
We offer consistent turnaround times, clear communication throughout your project and a competitive pricing offer.
Contact us
To request any of our services below or to find out more, please get in touch.
Project Management
From the moment you get in touch with your request, you'll be in direct contact with an Account Manager who will be on hand to answer all your questions and keep you updated throughout the project.
We know how important your time is and will work with you on a one-to-one basis to tailor the service we provide to your needs. This can include:
Arranging couriers to collect your materials
Formulating a plan that meets strict deadlines
Providing expert feedback on your results.
We're here to make your project run smoothly, whatever it takes.
HLA Typing – Intermediate and high-resolution Human Leukocyte Antigen genotyping
HLA typing can be used for a multitude of reasons; being but not limited to:-
High resolution typing to support patient/donor transplantation
Anti-HLA Antibody screening and identification
HLA typing for disease association, e.g. Coeliac, Ankylosing Spondylitis & Narcolepsy
HLA typing for drug hypersensitivity
Genetic mutations testing, e.g. HFE and CCR5
We perform genotyping of the following HLA genes: HLA-A, HLA-B, HLA-C, HLA-DRB1, HLA-DRB3, HLA-DRB4, HLA-DRB5, HLA-DQA1, HLA-DQB1, HLA-DPA1, HLA-DPB1.
We will work with you to determine which level of HLA typing is best suited to your project, and help you navigate the complexity of the HLA system and its genetic loci.
HLA typing data can be reported in a variety of different formats to suit your needs. Given the complexity of HLA nomenclature, we welcome queries to help you better understand what your data means (i.e. level of typing resolution, ambiguity strings, novel alleles, etc).
Our completely bespoke service offering will enable you to achieve the best outcome, with the desired turnaround time and competitive pricing.
DNA Extraction
We provide extraction of DNA from a variety of different biological sources and sample formats, including:
Whole blood
Buccal swabs
Cryopreserved cells
Buffy coat
Saliva
Our service includes returning the DNA information, as well as providing quantification data so you know exactly the concentration and volume of your sample. This means you can store vast quantities in your freezers, while only using minimum space to do so.
Contacting us about your project sooner rather than later enables us to promptly extract the DNA. Crucially, this means you are not compromising the quality of your sample so you can use it later for your project.
Speak with a project manager today for more information on how this solution can become a reality.
Virology Testing
We carry out virology screening by ELISA for the detection of the following factors:
CMV (antibody)
HIV1/2 (antibody/antigen)
Hepatitis B (antigen) and C (antibody) infection
Our dedicated Technical Services Team carry out runs daily enabling you to receive results required in a timely manner.
For any other virology testing requests, please do get in touch to discuss how we can help.
To find out how we can help your organisation or to request more information on our services, please get in touch by filling in the form below.