Marrow Volunteer Engagement Manager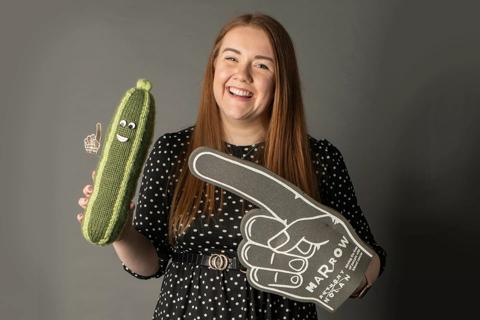 Why did you choose to work for Anthony Nolan?
I was a Marrow Volunteer at university, and I loved it. I always said that one day it was my dream to work at Anthony Nolan and continue playing a part in saving lives.
Tell us your story so far
After graduating, I carried on volunteering where I could and signed up to receive job alerts from Anthony Nolan. In September 2017, I successfully applied for the Marrow volunteer coordinator role in the Register Development team.
Two and a half years later, I'm now the Marrow Volunteer Manager and I can't imagine not working at Anthony Nolan. I love being on the other side of the Marrow team and being a part of providing an amazing and unique opportunity to future student volunteers!
What do you get up to in a typical day?
I spend lots of my time talking to and supporting our amazing Marrow volunteers. Lots of work goes on in the background to ensure they have everything they need to spread the word about Anthony Nolan.
What do you like most about working here?
Almost every day we hear stories about individuals who support our work, and patients and families we've supported. It's a great reminder of why we do what we do, and really motivating when the day-to-day gets you down.
What's been your biggest achievement so far?
Presenting to a conference of 250 Marrow student volunteers!
What makes someone thrive here?
Getting involved in as many opportunities as possible and immersing yourself in aspects of other divisions and other teams' work. There's so many opportunities to get involved and understand more about what we do!
What is it really like to work here?
Amazing. I feel like part of a big community!