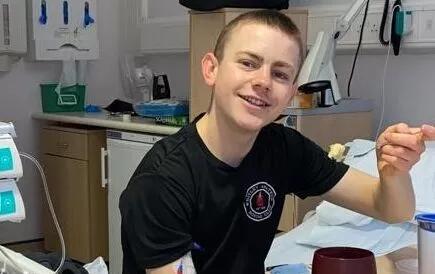 Up and coming boxing star Reuben Muston received a shocking blood disorder diagnosis after a nosebleed, caused by an injury in the ring, did not stop. The 18-year-old from Reading, who previously competed for England, was training daily before receiving the life-changing news.
Reuben has been told by doctors a stem cell transplant is the only treatment available that can offer him a second chance at life. Despite having two sisters, neither are a 10/10 match, so Reuben is now searching the globe for a stranger that can help.
Reuben and his family are appealing to anyone in the UK who is fit and healthy and between the ages of 16-30 to join the Anthony Nolan stem cell register to help increase the chances for him and for other people with blood cancers and disorders to find a donor.
After being told by doctors that Reuben has aplastic anaemia, Reuben's dad Dan said: "It was like having the rug pulled right from underneath us."
Aplastic anaemia is a blood disorder which stops bone marrow and stem cells from producing enough blood cells. Without treatment, it can raise a patient's risk of complications such as bleeding, leukaemia, irregular heartbeat and heart failure. Reuben currently visits hospital 2-3 times per week to have blood and platelet transfusions and blood tests. He urgently needs a stem cell transplant to treat his condition for the long term.
Reuben was due to start first year of university in September 2022 but has had to postpone his studies on the advice of his consultant. Reuben was hoping to study European languages and International Business and of course continue boxing at university league level. He is the only one of his friends still at home – as the rest have moved to universities around the country.
Henny Braund MBE, Chief Executive of Anthony Nolan, said: "Hearing that a young athlete like Reuben has had to put his dreams on hold is devastating. At Anthony Nolan we are working hard to find Reuben's perfect match but we urgently need more men between the ages of 16-30 to join our register, as our research shows they make the best donors for our patients. Joining the register takes minutes – just complete a short form on our website and you'll receive your swab in the post in just a few days."
Reuben is a big fan of music, with some favourite artists including rappers Dave and Drake. His hero though is boxing legend, Tyson Fury, who remains a huge inspiration to Reuben.
To find out more about Reuben, Anthony Nolan's work and stem cell donation, please visit: www.anthonynolan.org/reubensfight