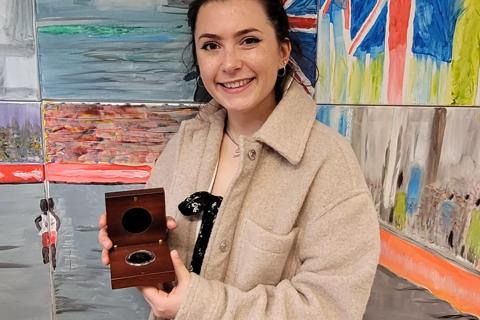 'The London Marathon was a day that I'll never forget for as long as I live.'

Vicky Lawrence
Two inspiring #TeamAN runners are among six new recipients of the 'Spirit of the London Marathon Award' announced today (Tuesday 29 March).
Vicky Lawrence and Elliott Brock ran The London Marathon in 2021. Elliott donated his stem cells to save Vicky's life when she needed a stem cell transplant at eight years old, and last year they crossed the finish line together!
'Having looked through the previous winners of the Spirit of the London Marathon, I feel very honoured to be chosen for this award,' Vicky says. 'I'm grateful for all the support both Anthony Nolan and the London Marathon team provided in the run up to the big day.'
'It could not have gone any better — to feature on national TV and radio, to publicise our story and cause, all for a charity that is so close to our hearts,' Elliott says. 'The marathon itself was phenomenal — the crowds, the sights, and the atmosphere was ten times better than I ever imagined.'
'I was so grateful to have Elliott there beside me the whole time,' Vicky added as she picked up the award.
Kirsty Mooney, Head of Supporter Led Fundraising at Anthony Nolan said: 'Huge congratulations to Vicky and Elliot for being awarded a Spirit of the London Marathon award, they're both simply incredible.
'Every day five people like Vicky, a patient with blood cancer or a blood disorder, search for their own Elliott, a life-saving stem cell donor. We are truly grateful to them both for running to raise vital funds and sharing their story to spread awareness of Anthony Nolan and the charity's lifesaving work.'