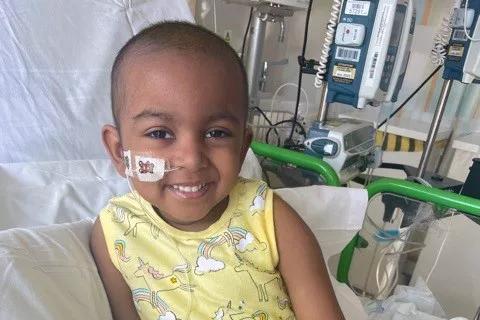 Like little girls all around the world four-year-old Esha Nadeswaran is obsessed with Princess Jasmine. She loves unicorns, Barbie and her dolls from 'the Decendants'. However, after being diagnosed with acute myeloid leukaemia (AML) Esha, from Gants Hill in North-East London, must rely on the kindness of strangers because she urgently needs a lifesaving stem cell transplant. Esha's family is working with charities, including Anthony Nolan, on the #ForEsha campaign, to raise awareness of the need for more South Asian stem cell donors during Blood Cancer Awareness Month.
Esha was diagnosed with AML in May and has been supported by her family, including her older sister, Ria. After two rounds of chemotherapy her family was told by doctors that she needed a stem cell transplant. Doctors need to give Esha new stem cells through her bloodstream which will grow and create healthy red blood cells, white blood cells and platelets to cure her AML. Esha's family have been told a matching stem cell donor must be found within two weeks to give her the best chance of survival.
On finding out about Esha's diagnosis her aunt, Lavanya, recalls: 'It was awful, there aren't the words to explain how it felt. After Esha had her blood tests we had a feeling that something wasn't right but as a family you never think this would happen to you.
'This is a very stressful and worrying time for us. We have been told there is a very short time frame to find our little Esha a match. We are heartbroken to see the suffering that she must endure and would give anything to take her pain away.
'Esha has missed out on so much the last few months,' Lavanya, a doctor, continues. 'She was due to start reception but unfortunately is missing lots of firsts. We really want to encourage the South Asian and minority ethnic population of the UK to consider joining the Anthony Nolan register because they can really make a difference.'
Blood cancer charity Anthony Nolan is now searching the worldwide network of stem cell registers for a person who is a close genetic match to Esha, and who is willing to donate their stem cells to save her life. However, the search is made more difficult due to Esha's Sri Lankan heritage, which means she is half as likely to find a perfect match than somebody who is White.
Henny Braund MBE, Chief Executive of Anthony Nolan says: 'After being told that you need a lifesaving transplant it can be devastating to be told that there is no matching stem cell donor for you or a loved one. My heart goes out to Esha as her family awaits news and Anthony Nolan will support them every step of the way.
'Nobody should be told that, because of their ethnicity, there is less likely to be a matching stem cell donor for them. We're working hard to change this, and are calling on young people aged 16-30 from South Asian backgrounds to join the register. One day you could be matched to a patient in need of a lifesaving stem cell transplant and bring hope to a family like Esha's.'
People aged 16-30 can join the Anthony Nolan register online at anthonynolan.org/esha if they are in good general health. The charity is particularly keen on people from South Asian and minority ethnic backgrounds to consider joining its register because patients who are White have a 72% chance of finding the best match from an unrelated donor. This drops to a 37% chance for patients from minority ethnic backgrounds, like Esha.
Anthony Nolan particularly needs more young men to sign up as they are underrepresented on the register. Young men currently account for only 18% of the charity's register, but they make up an astonishing 55% of all people asked to donate
Esha's family have organised a number of events at which people can join the stem cell register and give hope to families in the future. Click here to find out more.