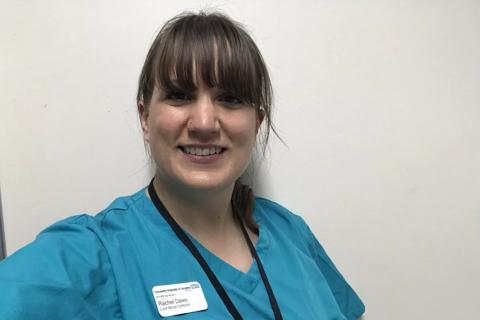 Rachel works at Leicester General Hospital and is one of our cord blood collectors. The role is extra special to her as Rachel knows first hand the impact of a stranger's stem cell donation. In this blog she tells us what led her to the role and gives us an insight into a typical day as a life-saving cord blood collector.
I first heard about Anthony Nolan when I was at university and joined the stem cell register, but it wasn't until four years ago that I really understood the impact of the charity's work.
My Dad was diagnosed with blood cancer and he needed a stem cell transplant - Anthony Nolan found him a donor and thanks to them, he's here today.
Three years later, I started looking for a role in the charity sector because my job at the time didn't feel meaningful or rewarding. I was especially keen to work for Anthony Nolan and I spotted the cord blood collector role. It sounded really interesting and very different to the work I'd been doing, so a good challenge too! So I applied...
When I was offered the role, I felt really happy and excited about being given the opportunity to contribute to a charity that has helped save my Dad's life but also for the new challenges that were to come. It was a new start for me and an area I had never worked in before.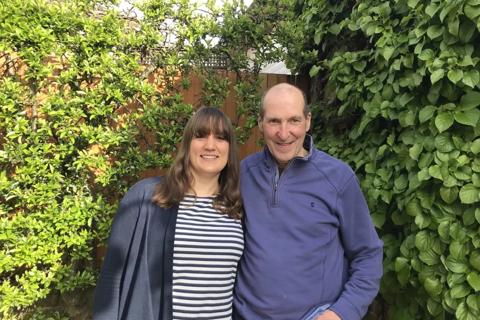 A typical day as a cord blood collector
I work on a labour ward collecting cord blood from the umbilical cord and placenta after birth so it can be used for stem cell transplants, research and cell and gene therapy. To be able to do this I inform mum's to be on the ward about the Anthony Nolan Cord Donation Programme and if they are interested, I obtain consent for us to collect the blood.
Cord blood collectors work 12.5 hour shifts, starting at either 7am or 7pm Sunday – Thursday. If it's a day shift, after handover from the previous shift there will be one or two elective cesarean sections booked in. I'll go and speak to the mums booked in about the programme and obtain consent if they would like to donate before going into theatre with them an hour or so later to collect the placenta after birth.
I'll go about that day's duties such as completing the stock take for the equipment we use, ensure everything is stocked up in the collection room, check the temperature of the fridge where we keep our cord blood units whilst at the same time keeping an eye on the patient board. If any new mums arrive, once they have settled I will speak to them about the programme and obtain consent if they wish to donate. If anyone is fully dilated and pushing or going into theatre it's time to be on alert to collect the placenta. The actual collection of cord blood usually takes about 15 minutes.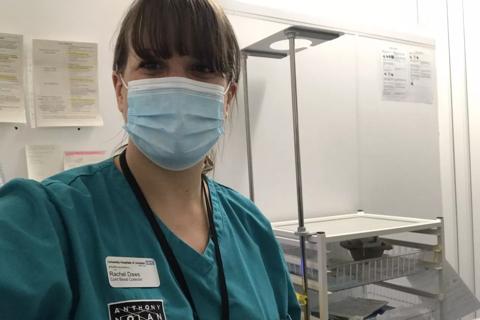 A couple of hours after a mum has given birth and I have collected the cord blood, I will go and see her and present her with a thank you card, baby certificate and baby bundle from Anthony Nolan to thank her for her donation. Depending on the type of birth a couple more hours after than I will need to get bloods from mum to send off with the unit. Previously I needed to ask a midwife to do this but I have now been trained in venipuncture so I can take the bloods myself as long as I am supervised.
After labelling everything up and double checking the paperwork, the blood unit can then be packed up ready for the courier who comes at around 5am every day to take the collections to the lab in Nottingham to be checked and stored.
If it's a night shift, the same tasks take place apart from the elective caesarians although you can still end up in theatre for an emergency section. Shifts can be very busy with sometimes two births at the same time. You have to be on your toes!
The best thing about my role
The best thing about my role has to be seeing new life come into the world and knowing that that new life can save another. I also really enjoy speaking to parents about the donation programme. Even if they can't or do not wish to donate it's still one more person who is aware of Anthony Nolan and what we do.
Being told that cord blood I have collected has been banked for use as a stem cell transplant certainly gives you a buzz. It is amazing to think that it could go on to save someone's parent, sibling, child, partner, friend, just like a stem cell transplant through Anthony Nolan saved my Dad. With an increased focus on the blood units being used for cell and gene therapy as well it's also great to know some of the units I collect go on to improve people's quality of life with many different illnesses and diseases such as diabetes and Parkinson's.