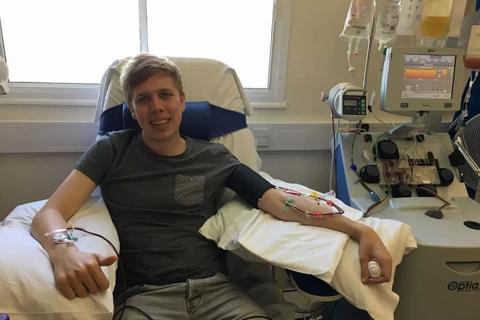 After two years of being on the stem cell register, Sean Haycock received his first call to donate. Following this donation, two years later he had been found as another match and was preparing to donate the same day he met his first recipient! This is Sean's double stem cell donation story.
If I could help someone in that position, I'd do it.
When I was 17, I went to donate blood for the first time and they asked if I'd be interested in stem cell donation, so I signed up. I just went for it. I knew someone who'd had leukaemia when I was younger and I just thought, if I could help someone in that position, I'd do it. If anything was to happen to anyone in my family, or myself, I'd hope there would be someone on the register willing to donate for me.
I received a letter telling me I was a potential match
Two years later, I'd just come back from a lad's holiday and there was a letter waiting for me, saying I was a potential match. I remember thinking I wouldn't get picked. I was keen to do it, but I just thought the most important thing is that they do what's best for person on the other side.
When I found out I was the best match I was shocked to be honest. I was a bit nervous but when the people from Anthony Nolan got in touch, that helped a lot. They worked around me and booked the donation in for after I'd done the Great North Run which I thought was great.
Donating couldn't be easier.
The donation process was a bit of a blur. It was during the summer holidays, so it didn't affect university, which was good, and it seemed to go by so fast. The nurses came round to my house to give me the injections you need before donating, and Anthony Nolan booked all the trains and hotels and gave me all the information – all I had to do was turn up.
Before I knew it, I was heading to Sheffield to do the donation. It all went exactly how I expected. Anthony Nolan had explained everything so well, they were brilliant. It couldn't be easier.
I thought about the recipient all the time.
Lots of people kept asking 'Have you heard anything from them? Do you know who it is?' – it's constantly on your mind. The first two years you have to remain anonymous and then you can both decide if you want to be put in direct contact. During the two years, she very kindly sent me some cards through Anthony Nolan. The first one was 100 days after the transplant when she'd got the all clear, which I now have framed. I sent a letter back expressing how happy I was that she was well. She sent me two more cards and said that she'd like to be in touch once the anonymous period was up and I did too, so it was more or less a countdown until the day we could request each other's details.
It was really nice messaging Anne and we sent some pictures. Some things really made it hit home, like when she was shopping for her daughter's wedding dress. You realise the impact you've had, and not just on Anne, but all the people around her. When it actually came to meeting up I was a bit nervous, you build it up in your mind. I met up with Anne and her family just before Christmas, so they came over for a bit of a Christmas dinner. It was really lovely.
It was strange timing as well, because that day I'd started my GCSF injections for another recipient – I'd come up as a match again! I was shocked, I knew it was really unlikely.
The second time was an even better experience.
I knew exactly what I was getting myself into and how the donation would go. I knew it would be a bit uncomfortable, which it was, but it didn't seem as bad because I knew that as soon as the donation was over, I'd feel better. Also having met Anne, this time I had even more motivation because I'd seen that it works. I didn't tell Anne until I met her and her reaction was brilliant.
We keep in touch and she was so supportive throughout the whole process and wishing me well. Everyone I know, even vaguely, has been interested. It's the first thing people bring up, they all want to know what it was like, what Anne is like – everyone wants to meet Anne! Quite a few people have since signed up to the register which I'm also quite proud of.
I'd encourage anyone to sign up.
If you do come up as a match, it's so easy. I feel like I didn't do anything really, I just got some injections and turned up at the hospital for a few hours. It really is so easy, yet the difference you'll be making is phenomenal. It didn't seem fully real until I actually met Anne and her family and saw the effect on their lives. It's amazing that you can be the person who does that.
You too can help people, like Sean has
A gift of £5 a month helps build a stem cell register that gives everyone the best chance of survival