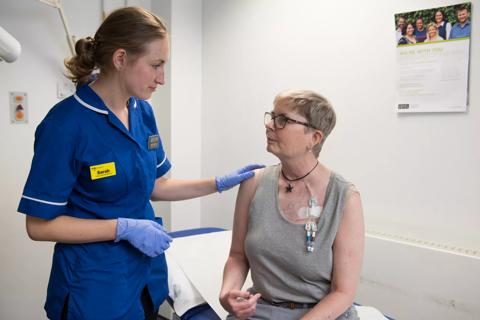 Late Effects Practice Guidelines
The Late Effects Practice Guidelines (LEPG) have been developed for transplant and non-transplant healthcare professionals to ensure the best care and implementation of late effects services in transplant centres, and to support you in your incredible work for patients.
These guidelines have been developed by a working group and advisory group of transplant healthcare professionals, GPs and patient representatives, following research on current practice and need.
These guidelines apply to both autologous and allogeneic stem cell transplants unless otherwise stated.
Cognition
+
-
Patient-reported changes in cognition after stem cell transplant (SCT) is common but there is limited understanding by transplant healthcare professionals or research into the management of symptoms.
The LEPG working group acknowledges that the guidelines are limited but see this as a first step to encouraging discussion with patients and documenting interventions.
There are plans for further research into the use of an appropriate cognition tool.
Assessment
Discuss the potential effects of SCT treatment on cognition as early as possible, ideally pre-transplant.
Consider using a cognition screening tool for baseline assessment.
Routinely discuss/re-assess at 6 months, 1 year and annually at a minimum.
Management
Provide information on the effects of stem cell transplant on cognition and advise on intervention and strategies that will improve symptoms.
Plan and document the interventions and strategies that will help the improvement and management of cognition.
Consider the effects of fatigue, mental wellbeing and lifestyle on cognition.
Consider referral to a cognitive rehabilitation service (if available), occupational therapist or neuropsychologist.
Practical Tools
Information & strategies - How Stem Cell Transplant Can Affect Your Memory & Cognition is available as a webpage, a PDF to share or print, or as a free booklet
Further information - on managing fatigue and mental health after stem cell transplant
*available soon
We'll continue to update these guidelines. If you have any questions, please email lead.nurse@anthonynolan.org
Printed resources
You can direct your patients to our tools and resources, full of specialist support designed specifically for those having a stem cell transplant.
Posters, flyers & digital screens
Our range of posters, flyers and other signposting tools are easy starting points to help let patients know that extra support is there, whenever they may need it.
Information booklets
Our informative, engaging booklets can help guide your conversations with patients. All are accredited by the PiF Tick quality mark, and many resources have been highly commended by the British Medical Association (BMA) Patient Information Awards.
Find out more about our full range of services for patients.
Study Days
You can learn how to provide the best possible care for stem cell transplant patients, and meet others working in similar roles, at our Anthony Nolan Study Days.
Our Study Days invite a range of expert speakers to share the latest best practice on a range of issues, including:
psychological support
late effects
Graft versus host disease (GvHD)
CAR-T and other scientific developments
palliative care.
Specialist Study Days are available for:
clinical psychologists
allied healthcare professionals.
Anthony Nolan Study Days are accredited by the Royal College of Nursing and will contribute to your Core Professional Development (CPD) points. Networking opportunities to meet others in your field are built into each day.
Newsletter
Be part of our expert nurse-led community and stay up to date with the latest news and support available from Anthony Nolan by signing up to receive our newsletter.
Fill in the form below to receive regular email updates from us. You can unsubscribe at any time.
Adoption Programme
We are looking to adopt a broad range of healthcare professionals from nurses and BMT coordinators, to occupational therapists and psychologists. By having your role adopted by Anthony Nolan, you can provide us with your specialist skills and knowledge working with stem cell transplant patients, while we can support you with your professional development. Together, we can provide the best possible care for patients.
Our funded clinical posts
Since 2014, we have funded 18 healthcare professionals to raise the standard of post-transplant care across the country. We're so proud to work alongside them.
Contact us
If you have any clinical questions, we can link you up with our expert nurses, clinical psychologists and extended contacts. Together, we will continue to learn, grow, and improve the care given to stem cell transplant patients.