From initial search to provision of stem cells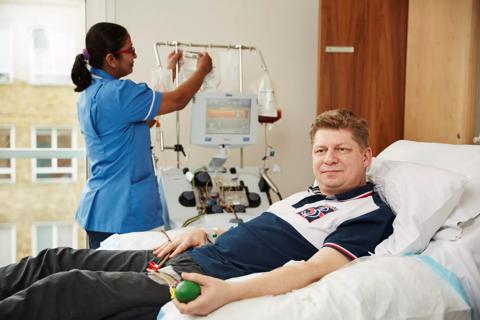 These are the core services we provide for transplant centres to carry out your vital work. We also have additional services to complement your work.
For any information and to use any of the following services, please contact our Customer Service team on customer.service@anthonynolan.org.
Search and selection
If a transplant centre or registry sends a search request using our search request form, we can:
Search the Anthony Nolan & NHS Stem Cell Register for matched donors and return the results within 48 hours
Search international registers for UK transplant centres using WMDA Search and Match Service and return results from listed registries within 72 hours
Obtain full unit reports on individual cord blood units from UK and international cord blood banks and forward them to the transplant centre.
Typing and testing
When a matched donor or cord blood unit is found, we facilitate the procurement of the following samples for testing at the requesting transplant centre or associated laboratory:
Verification Typing (VT)
Extended typing
Virology
Histocompatibility and immunogenetics services
We can provide laboratory services and can facilitate the following requests:
HLA-A, -B, -C, -DRB1, -DRB3, -DRB4, -DRB5, -DQB1 and -DPB1 to support transplantation
ABO RhD blood group typing of HSC donors and patients
Virology screening (CMV, HIV, HBsAg, HCV) of potential HSC donors and patients
Antibody screening
HLA typing for disease association
HLA typing for drug hypersensitivity
Genetic mutation, eg. HFE and CCR5
Solid organ services, eg. Crossmatching
Services to support solid organ transplantation
Contact us
For more information, please contact our Customer Service team.
Provision of stem cells
We support with the provision of stem cells from UK and International donors, including cord blood unit shipments.
For UK donor provisions:
We support donors throughout the provision process, from request through to donation and follow up
We arrange a full medical assessment
If donors are donating via PBSC, we arrange the administration of a four-day course of G-CSF injections
We organise any travel and accommodation required for the donor and a companion
We arrange the collection of stem cells from the donor via PBSC, bone marrow or DLC
For UK patients we arrange transportation of the donated product to the requesting transplant centre
For international donor provisions:
We liaise with international registries or donor centres to ensure international donors proceed to donation for a UK recipient, as requested by a UK transplant centre
We relay information quickly, taking into consideration different time zones, language barriers and varying practices amongst registries, e.g. collection procedures, infectious disease marker (IDM) testing
We arrange transportation of the donated product to the requesting transplant centre
For cord provisions:
We arrange cord shipments from Anthony Nolan, UK and international cord blood banks
For Anthony Nolan cord blood units there is no charge to reserve, and quality control (QC) testing starts immediately on receipt of reservation. There is no charge for cancelling shipment of an Anthony Nolan unit until shipment has bugun.
On receipt of a shipment request for any international cord blood unit, we immediately liaise with the international cord bank to ensure that all mandatory IDM testing has been or will be completed prior to shipment
We work with international cord banks to get all the QC testing results that the requesting transplant centre require
Patient support
Our dedicated Patient Services team is here to provide support and information for patients and their families throughout their transplant and recovery. They can provide:
Dedicated support and advice over phone and email for patients and their families
Information and guides specific to stem cell transplant, including our range of free booklets, blogs and video from patients and experts.
Our free My Transplant Tracker app to help patients manage their recovery from transplant.
A Patients and Families Online forum where patients can share their experiences, plus a peer support phone service.
Grants to help cover the hidden costs of stem cell transplant, such as travel to follow-up appointments.
Advice for anyone returning to work after their transplant.
Free events including our Patient and Family Education Days around the UK and joining our team at the British Transplant Games.
Volunteer courier service
Our fully trained and motivated volunteer couriers are available to collect stem cells from around the world to deliver them to patients in the UK. Our fantastic volunteer courier service can offer direct savings to transplant centres in comparison to using commercial couriers.
Each courier is equipped with the latest temperature-regulating transportation boxes, specially designed for couriering blood products safely for up to 72 hours. The volunteer couriers are managed and supported by our Volunteer & Logistics team. They are trained extensively in quality procedures and in dealing with any travel variations they experience en route.
Couriers who are assigned to your product transportation will remain in contact with you, making sure you are updated with any variations to their travel along the way.
Find the latest information on Anthony Nolan's response to potential travel disruption during the Covid-19 pandemic.
Contact us
Our Customer Service team are here to help. Call 0303 303 0303 or email for:
- General inquiries or information
- To arrange visits or attend events and workshops
- Advice on contracts
- Fee schedule enquiries