The London Marathon is the world's largest marathon run. On its famous 26.2 mile route, you'll see the sights, soak up the atmosphere, and save the lives of people with blood cancer.
Thank you so much for wanting to be part of Team Anthony Nolan. There's lifesaving to be done.
The official 2022 TCS London Marathon ballot closed on Friday 8 October. If you ticked to hear from Anthony Nolan (thank you!), we'll be in touch and you'll find out your result in February.
Or fill in our application form below to apply for a #TeamAN charity place on our team next year.
#TeamAN is ready for you! Passionate, proud and powerful, being part of the team will get you from the baby steps of your training, to the glory of that finish line. It'll be life-changing in the best possible way.
Stick with #TeamAN and you'll be treated to our VIP package, including
The slickest personalised vest
Everyone knows the black and green team mean business. And with your personalised #TeamAN vest on, you'll look the business too.
An exclusive #TeamAN Strava club
To get to know your fellow runners, track your training milestones and support each other throughout your marathon journeys.
Tips to get you race day ready
Stay one step ahead of the rest with training tips and a fundraising pack crammed with advice to help you raise those lifesaving pounds. Our friendly Events Team will also give you dedicated support whenever you need it, including an exclusive invite to your #TeamAN marathon training day.
A cheer squad you can hear from outer space
Loud, proud and definitely not afraid to stand out from the crowd – the Anthony Nolan cheer squads know how to get runners over the finish line with their supportive screams.
A legendary post-race party
An achievement like this deserves a celebratory party. So that's exactly what we'll throw you, your friends and family. There'll be hot food, drinks and the hero's reception you deserve.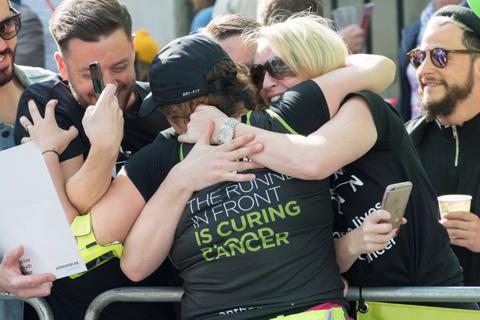 And a well deserved massage
Tending to any achy limbs is the least we can do after what you've done for people with blood cancer. So lie back and enjoy a well-deserved massage!