Services to complement and enhance your work.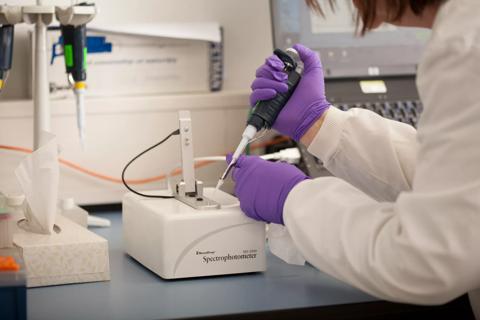 Graft Identification Advisory Service (GIAS)
Graft Identification Advisory Service (GIAS) is an optional bespoke service we can provide for individual transplant centres. This tailored service is designed to aid in the search and recommendation of adult unrelated donors and/or cord blood units.
Service options include:
Specially trained, dedicated coordinators who can perform searches and recommend donors and/or cord blood units (CBU) and the appropriate tests to perform, in accordance with the latest guidelines and criteria specified by the individual centre.
Cord summary tables with the key features of recommended units with cord search reports for ease of CBU comparison.
A checklist service to identify missing information, simplifying and streamlining the final selection of optimal CBUs.
A full range of services from our Histocompatibility and Immunogenetics (H&I) Laboratory to transplant centres.
CMV service
For UK transplant centres requesting an Anthony Nolan donor, we can test the donor's Cytomegalovirus (CMV) status before the transplant centre receives Verification Typing (VT) samples. Using the service has the potential to reduce costs for the transplant centre.
If the donor's CMV status is a match for your patient, we will notify you of the result and forward the VT blood samples immediately. If the donor's CMV status does not match the patient, we won't send the VT blood samples and you won't be charged.
Related donors
We aim to provide support to transplant centres and international establishments in making related donations happen. This service is adaptable to meet a centre's needs, depending on where they are in the process of testing or obtaining cells from the donor. 
Related donor service:

The transplant centre or international establishment can request Anthony Nolan to organise collection of samples from the related donor to establish if they are a match for the patient and / or facilitation of the donation. This service can be used if a related donor lives in the UK, or in a country where Anthony Nolan has an agreement in place with a registry or hospital to help facilitate related donations. Anthony Nolan will work to get an agreement in place as needed if one is not already in existence.
Visa Support:

We can provide support to speed up the resolution of any visa application issues for a related donor by acting as a line of communication between transplant centres and UK Visa and Immigration.
Cord Support Programme
The Anthony Nolan and NHS Blood & Transplant (NHSBT) Cord Support Programme is a suite of free services – designed to ensure selection, requesting and handling Cord Blood Units (CBUs) is as simple as possible for you.
The enhanced services aim to provide:
Information including operational specifics on worldwide cord banks and regular cord focussed updates.
Training for Transplant centres on any aspects of CBU request
Advice on CBU selection, quality evaluation, shipment and provision including remote and on-site troubleshooting advice and a 24/7 urgent enquiries phone line.
Clinical Nurse Specialists and Clinical Psychologists
Alongside the NHS we fund post-transplant Clinical Nurse Specialists (CNSs) and Clinical Psychologists who work across the transplant pathway. The aim of these posts is to improve patient experience, develop nurse-led clinics and provide psychological assessment and intervention as required.
The roles have been vital in promoting best practice, research to enhance quality of life and implementing exemplary post-transplant care.
As of March 2019, Anthony Nolan will have funded fifteen roles in transplant centres across the UK.
Research studies
We can help facilitate where a transplant centre requests an Anthony Nolan or international donor to be involved in a research programme or project.
All research studies involving an Anthony Nolan donor require the approval of the Anthony Nolan Medical Director. In the case of a non-Anthony Nolan donor, we will forward the request to the relevant establishment for its consideration.
To make a request or for more information please contact: researchstudies@anthonynolan.org.
Contact us
If you have any questions or would like more information about our additional services, contact our Customer Service team on 0303 303 0303 or email customer.service@anthonynolan.org.