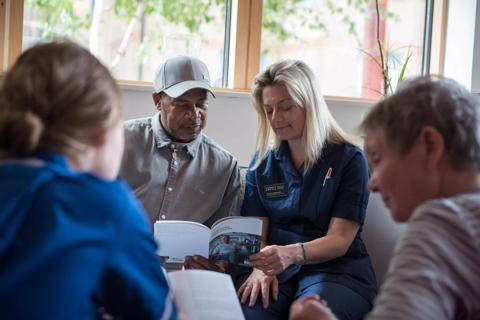 For people in need of a stem cell transplant, it can be an overwhelming time. We're here to give our full support to patients and their families, offer a wide range of helpful services, and ultimately make the journey easier to navigate and cope with.
Information
There's a lot of information to know when it comes to having a stem cell transplant. We're here to distil it all in a clear, simple, accessible way. We provide high quality health information in a variety of formats to suit your patients' learning styles:
Financial support
Grants
We allocate grants of up to £250 to help cover the extra costs, including travel, clothes, and living expenses.
Emotional & back to work support
Having a stem cell transplant can take its toll on wellbeing. We offer free emotional and back to work support run in partnership with Working to Wellbeing. Working to Wellbeing have a team of wellbeing specialists with years expertise of experience working with stem cell transplant patients.
Telephone Emotional Support
Through a series of appointments, patients and nurses can talk remotely about whatever's on their mind. That could be concerns about the future or treatment pathways.
This is also available for nurses working in stem cell transplant to talk about some of the challenges in practice.
Back to work support
Patients can discuss barriers back to work or college and find practical ways to address them through a series of telephone appointments.
Events & community
No one understands what it's like to go through a stem cell transplant quite like another patient. Our patient and family community is full of people who know just what the transplant journey is like, and are there to help support one another throughout.
Events
Our range of events help patients meet, learn, laugh, cry and celebrate together.
Community
You can follow the dedicated Patients and Families Facebook page for the latest news and stories from our patient community.
Our online community forum is a space for patients to directly share their experiences and questions. All posts are monitored by our patient champions and Lead Nurse.
Research
We work with a wide range of healthcare experts to produce evidence-based recommendations that will improve the quality of care given to all our patients. Being able to accurately evaluate the support we provide allows us to constantly evolve the services we provide at Anthony Nolan.
You can read more about this exciting work and find out how you can get involved in our patient focused research section.
About:
We are… for everyone
It doesn't matter if your patients are just starting transplant, had their transplant years ago or if they are a friend, partner or colleague. We're there for anyone affected by a stem cell transplant.
We are… patient-focused
We involve patients in everything we do. From developing the service, to running services like our online community forum. We want to make sure everything we provide suits the needs of our patients.
We are… always improving
Patients and their families deserve the best, most up-to-date support from us all, always. We review our information every three years, build and develop our services regularly, and work hard to provide the best care possible.
We are… there to support transplant centres
We can achieve and provide great things by working together. We're collaborative and are here to provide extra support to transplant centres to help guide patients. We will always encourage patients to speak to their medical team to discuss their specific treatment pathway.
We are… strategic
And work towards organisational priorities.