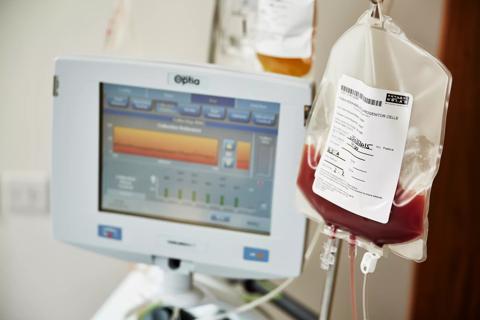 Adult donor material
We recruit thousands of new donors to the Anthony Nolan stem cell register every year, ready to be matched with patients in need of a transplant. Our register began in 1974 when it was the world's first, and now has over 850,000 healthy adult donors
We work with a Research Donor Panel made up of carefully selected and consented donors from the main register who are available to donate for research.
Our extensive experience of facilitating transplants means we can deliver high-quality, ethically approved starting material according to your requirements.
Our products
Peripheral blood stem cells (PBSC) 
Leukapheresis

Fresh leukopaks
Cryopreserved leukopaks
Fresh whole blood
Isolated cells e.g. CD34+
To order any of these high-quality starting materials, contact our team now.
How we can help:
Our team of experts can work with you to understand your needs, including cell content, yield, purity and HLA type. Material is provided on request to your bespoke requirements – in the quantity and batch size that you need. The services we provide include:
Screening and recruitment of healthy adult donors
Donor consent management
Collection of donor material
Processing & quality assessment
Shipment and delivery of material.
Our donors are overwhelmingly supportive of providing material for R&D. Our pool of 850,000+ donors gives us access to people with a wide variety of HLA tissue types and diverse ethnic backgrounds. 
We understand the importance of a starting material that is reproducible, scalable and representative of your terminal clinical process.
All collections are ethically sourced in the UK and we pride ourselves on putting donors at the heart of what we do.